Dietary supplements


Sesame is a very popular ingredient in Ayurveda and its oil is usually used as a vehicle for many preparations. Ayurveda uses a special technique to extract the crude oil from sesame which was found to be rich in antioxidants such as Sesamine/semaolin and sesamol. We call these antioxidants as S3-complex. Our SesaMAX is S3-complex rich sesame oil prepared by a proprietary process. It is also very good for topical applications. SesaMAX is the best antioxidant sesame oil and can be consumed directly. SesaMAX improvises immunity at a dosage of 500 to 1000 mg x 1/day as softgels. The oil can also be used in combination with other oils such as Omega-3, Flaxseed oil, Olive oil or Virgin coconut oil or other healthy oils. It can also be used in combination with others.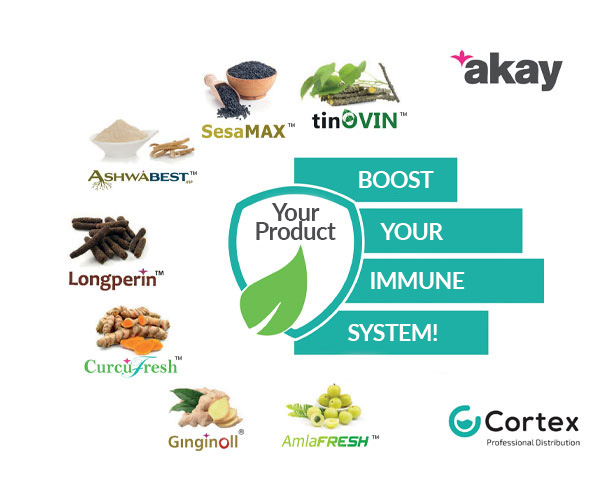 HOW TO BOOST IMMUNITY NATURALLY…?

AKAY has adopted the most common immunity herbals in Ayurveda and developed 'Value-added Uniquely Standardized Extracts' (V-USE extractsTM) employing the patented NUTRISPICE® process to secure the bioactive principles in a BIO-EFFICIENT manner suitable for the 3D-printing of food/beverages and Capsules/tablets.
NATURAL, TASTY, SAFE, COST-EFFECTIVE & REGULATION-FRIENDLY…!
Cortex Chemicals – exclusive distributor of Akay plant extracts in Europe!
Specification
CAS number

8008-74-0

Einecs number

232-370-6