Dietary supplements


CurcuFresh is derived from FRESH TURMERIC JUICE POWDER. FRESH TURMERIC is the one used in Ayurveda and other traditional and folklore medicines. It is clinically proven for High bioavailability of FREE curcuminoids (40X) (JFF 2015). We for the first time made the process and developed the nutritional ingredient from FRESH TURMERIC. This product can be called as a complete turmeric matrix with >10% turmeric saccharides, >2% turmeric oil (1% turmerones), and NLT 3% curcuminoids, exactly the same way as we see turmeric in nature. This product is solvent free.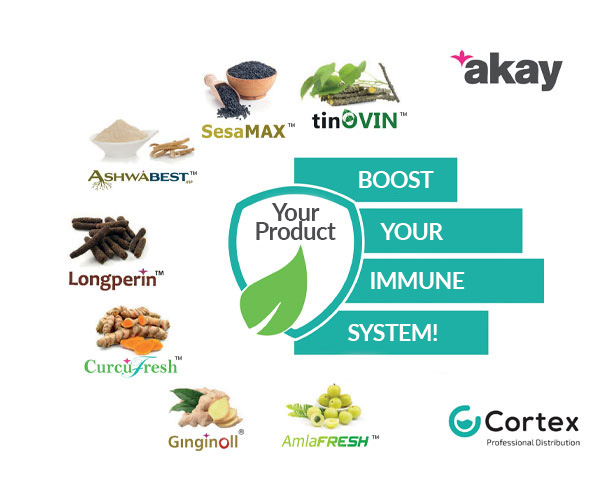 HOW TO BOOST IMMUNITY NATURALLY…?

AKAY has adopted the most common immunity herbals in Ayurveda and developed 'Value-added Uniquely Standardized Extracts' (V-USE extractsTM) employing the patented NUTRISPICE® process to secure the bioactive principles in a BIO-EFFICIENT manner suitable for the 3D-printing of food/beverages and Capsules/tablets.
NATURAL, TASTY, SAFE, COST-EFFECTIVE & REGULATION-FRIENDLY…!
Cortex Chemicals – exclusive distributor of Akay plant extracts in Europe!
Specification
CAS number

84775-52-0

Einecs number

283-882-1