Dietary supplements


Ashwagandha is a renowned herbal medicine for reducing anxiety and stress, helping fight depression, boost fertility and testosterone in men, and even boost brain function. Supplementing with ashwagandha may be an easy and effective way to improve your health and quality of life. It is also known for its immunity development. Our ASHWABEST is the correctly standardised ashwagandha extract based on USP method of analysis to provide correct dosage of withanolides and withano glycosides in small dosage like 100 or 150 mg x 2/day. It can be made from roots alone or roots+leaf. Root extract is relatively expensive but standardised to contain withanolides in withnaoglucosides and polysaccharides.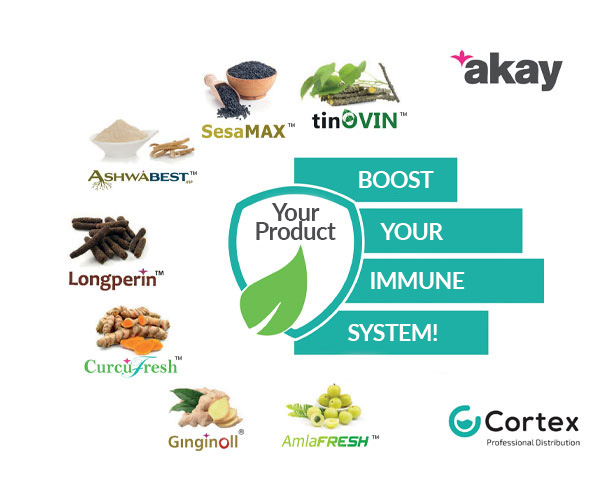 HOW TO BOOST IMMUNITY NATURALLY…?

AKAY has adopted the most common immunity herbals in Ayurveda and developed 'Value-added Uniquely Standardized Extracts' (V-USE extractsTM) employing the patented NUTRISPICE® process to secure the bioactive principles in a BIO-EFFICIENT manner suitable for the 3D-printing of food/beverages and Capsules/tablets.
NATURAL, TASTY, SAFE, COST-EFFECTIVE & REGULATION-FRIENDLY…!
Cortex Chemicals – exclusive distributor of Akay plant extracts in Europe!
Specification
CAS number

90147-43-6

Einecs number

290-434-9