Dr. Paul Lohmann® mineral salts with GMP certificate from Cortex Chemicals
Cortex Chemicals is a exclusive distributor of a wide range of Dr. Paul Lohmann's® products. We are colaborating with the best companys from many branches. In 2018 we where a host of a International Supplement & Food Additives Conference in Poland. Dr. Paul Lohmann® where Co-Organisig this event with us. You can find couple interesting facts about Dr. Paul Lohmann® company below.
GMP as the Fundament for APIs
—
Since 1994, Dr. Paul Lohmann®, as one of the first German raw material producers, obtained the GMP (Good Manufacturing Practice) certificate. Therefore, the company is regularly inspected by the German sanitary authorities and maintains a high level of certification, with constantly increasing quality requirements.
Based on this solid foundation of quality, Dr. Paul Lohmann® is able to manufacture and document APIs (Active Pharmaceutical Ingredients).
A wide range of different APIs are manufactured at Dr. Paul Lohmann®'s production facilities in Emmerthal and Lüneburg, which are GMP certified.
They are used in medicines in the following therapeutic areas:
▪ Orthopedics
▪ Cardiology
▪ Neurology
▪ Hematology
▪ Gastroenterology
▪ Immunology
▪ Nephrology
Over 90 APIs – all best quality products!
—
Dr. Paul Lohmann® is the world's largest portfolio of mineral salts for use as an API. Products approved by GMP are listed in the official database of European Inspections (EUDRA GMDP). This allows customers to view registered APIs on a regulatory platform maintained and operated by the EMA (European Medicines Agency).
Regulatory Affairs
—
Dr. Paul Lohmann® has a Regulatory Affairs department to manage API documentation such as CEP (Certificate of Suitability to the Monographs of the European Pharmacopoeia), ASMF (Active Substance Master File), DMF (Drug Master File) and ASEAN-CTD (joint document technical). The Regulatory is in constant contact with health authorities located all over the world after the documentation is submitted by the responsible entity. APIMF is available for Zinc Sulphate Hydrate 1 for WHO applications.
Dr. Paul Lohmann's® CEPs
—
A CEP enables the customer to register a drug in multiple countries in a cost saving and simplified way. Dr. Paul Lohmann® holds 11 CEPs listed at the EDQM (European Directorate for the Quality of Medicines & HealthCare) and is working to extend this list which underlines the strategic focus of the company. The CEPs are recognized by all signatory states of the European Pharmacopeia Convention and by the European Union. Canada, Australia, New Zealand, Tunisia and Morocco have also chosen to recognize them.
GMP approved API
—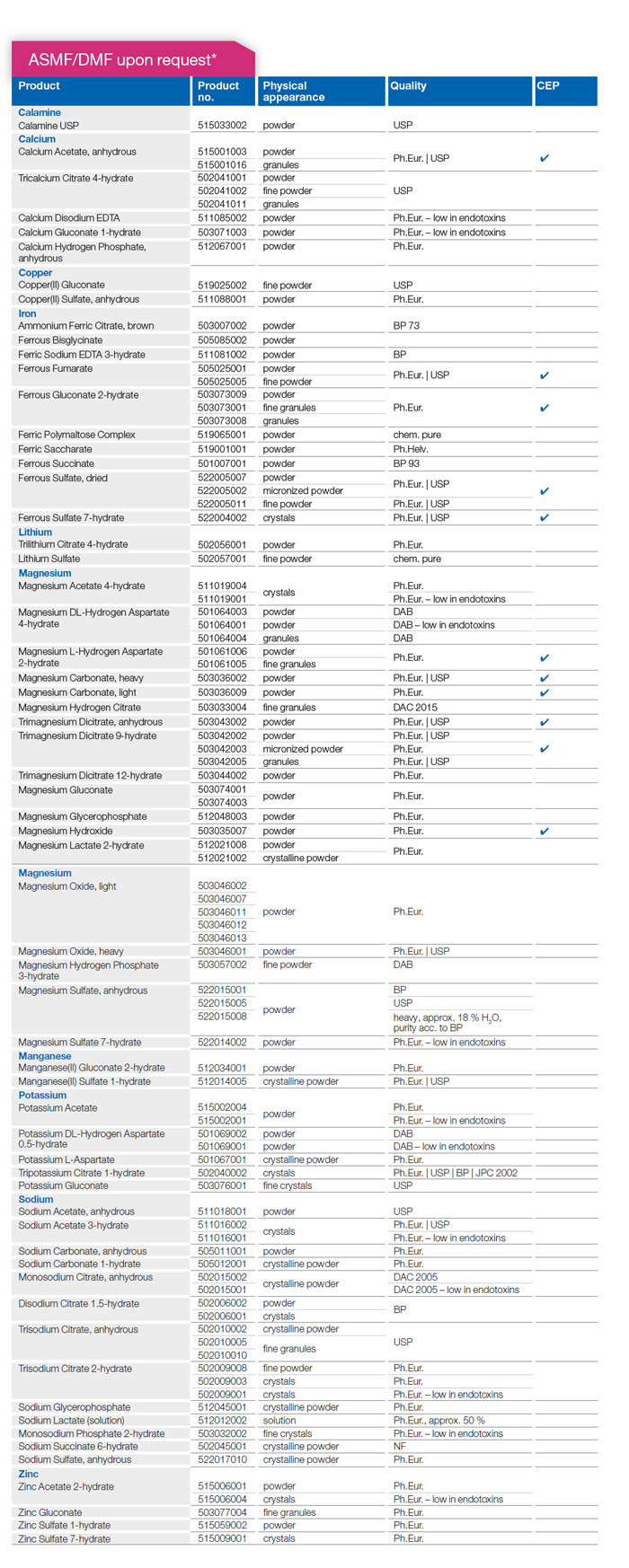 * The products above are listed at the EUDRA GMDP database. The regulatory fundament for these products is established in order to prepare API documentation. Due to the changing requirements of the different authorities worldwide and the actual GMP 07 guidelines together with the varying pharmacopeia revisions, the status of API documentation might be different. Depending on the status, a DMF/ASMF is available or needs to be updated/ revised respectively. Therefore, we ask to send inquiries for products as APIs.